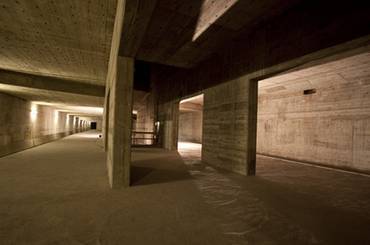 NGBK Berlin: Open call for submissions to a public art competition
(Link: http://mailer.e-artnow.org/?RDCT=525ca7cc4db923c4ee79 )
U10 from here to the imaginary and back again
Neue Gesellschaft für Bildende Kunst (New Society for Visual Arts)
www.ngbk.de
(Link: http://mailer.e-artnow.org/?RDCT=525ca7cc4db923c4ee79 )
Incompleted U10 station at Innsbrucker Platz Foto: Francisco Queimadela
Contact
ngbk@ngbk.de (Link: ngbk@ngbk.de ) Phone: +49 (0)30 - 616 513 -0
Fax: +49 (0)30 - 616 513 -77
Address
www.ngbk.de (Link: http://mailer.e-artnow.org/?RDCT=525ca7cc4db923c4ee79 )
Neue Gesellschaft für
Bildende Kunst (New Society for Visual Arts) Oranienstrasse 25 10999
Berlin Germany
Info
Open call for submissions to a public art competition in the Berlin
Underground Train Network for 2011 Deadline for applications is 01.
October 2010 See www.U10-berlin.de for project info
(Link:http://mailer.e-artnow.org/?RDCT=2243edd9cbfe64e2be69 )
Call for project proposals: The Future of 'Public' in Public Transport The
organisers, the Neue Gesellschaft fuer Bildende Kunst (NGBK) in Berlin,
are looking for situation specific and/or participatory ideas, visions,
experiments and interventions which address the future meaning of 'public'
in Berlin's public Underground Network. They can range from being short,
interventionistic artistic reactions to specific occurrences on the
Underground to being long term collaborations aimed at creating
sustainable relationships to Underground staff and/or users over a number
of years. A total budget of 30.000 Euro for artist's fees, production,
travel and accommodation is available for a maximum of four projects to be
realised from May to December 2011. Deadline for applications is 01.
October 2010. Eligibility Artists or collaborative groups of artists and
non-artists are invited to take part in this call for submissions.
Preference will be given to artists who see their work as a means of
exchange and shared dialogue and who are interested in reaching new
audiences. This may include a readiness to collaborate with, for example,
groups of BVG staff or passengers who have little experience of
contemporary art. The organisors cannot take part in the call themselves.
U10 - from here to the imaginary and back again is an NGBK Berlin project,
initiated and run by Sofia Bempeza, Ania Corcilius, Jacopo Gallico, Eva
Hertzsch and Adam Page. U10 is funded by the Senatskanzlei - Kulturelle
Angelegenheiten / Kunst im Stadtraum and supported by BVG, Berliner
Fenster and Wall AG
How to create your own announcement with e-artnow
(Link:http://mailer.e-artnow.org/?RDCT=b470cea266bdbdee4b73 )
Unsubscribe from e-artnow
(Link:http://mailer.e-artnow.org/?RDCT=1021856c3eef0b4be4bb)